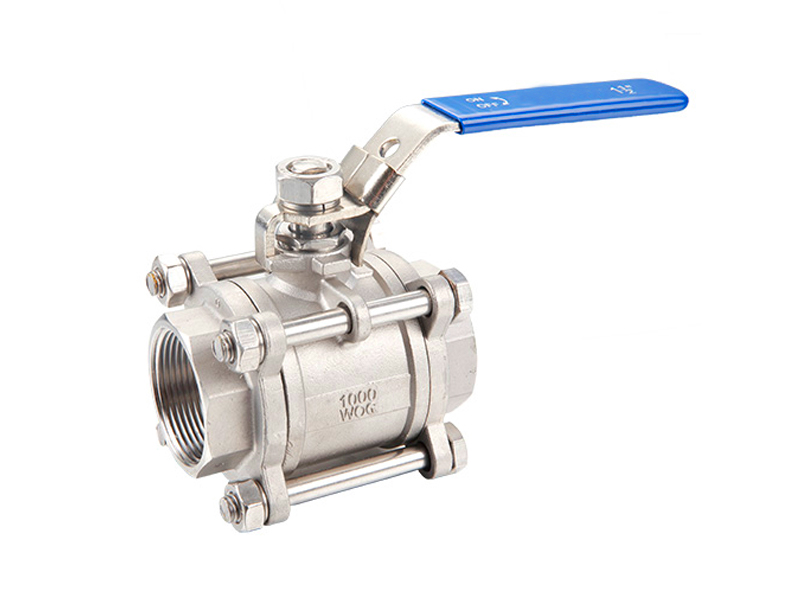 Stainless Steel 3PC Ball Valve
Features: Size: 1/4~4"
Pressure Rating: 1000PSI
Material: SS201, SS304, SS316, WCB
Design Standard: ASME B16.34, GB/T12237
Inspection Standard: API 598 , JB/T9092
Application medium: Water,Oil ,Gas
Application Temperature: -25℃ + 150℃
We're here to help:
Easy ways to get the answers you need.
Parameter
Standards&Features
Case
Application
Inquiry
Standards&Features:
Features


3 Body Pieces

Easy to Install and Maintain

casting

Unexpellable Kindred

Full Step

Security Lock System

Flexible Connection Ends

Available Seat Material Options


Adoptive Standards
Valve Design: ASME B16.34, GB/T12237
Pressure Test: API 598 , JB/T9092
Thread standard: NPT, BSP


Standard Test
Body Test: 1.5 times the working pressure with water. This test is performed after valve assembly and with disc in half position open, it is called as a body hydro test.
Seat Test: 1.1 times the working pressure with water.
Function / Operation Test: At the time of final inspection, each valve and its actuator (Flow-Control Lever / Gear / Pneumatic Actuator), under goes a complete operating test (Open/Close). This test carried out without pressure and at ambient temperature. It ensures the correct operation of the valve / actuator assembly with accessories such as solenoid valve, limit switches, air filter regulator etc.
Special Test: On request, any other test can be carried out according to special instruction by client.
Case:
Project name: A customer in Pakistan purchases check valves, gate valves, pipe fittings, etc.
Customer name: a distributor in Pakistan
Main products: ball valve check valve, gate valve, pipe fittings, etc.
Customer demand: high-quality valves, fittings, storage or supply to customers
project description:
The client in this case is from Pakistan and is a large-scale local valve distributor. They have their own store locally and often import some valves from abroad to store or supply to local customers.
This client has cooperated with WESDOM many times. Almost every once in a while, they will contact the foreign trade salesman of WESDOM. They bought a batch of valves from WESDOM and stocked them in their store.
Through many cooperations with WESDOM, the two sides have established a very close cooperative relationship. Of course, they contacted WESDOM without hesitation, and purchased check valves, gate valves, pipe fittings, etc. from WESDOM.
client feedback:
We have worked with WESDOM many times and have been very satisfied each time. We are very willing to maintain a long-term cooperative relationship with WESDOM.
Project pictures:
Application:
Applied projects:

Petrochemical

Power plant

Refining

Oil & Gas

Metallurgy
Please fill in your procurement needs and contact information