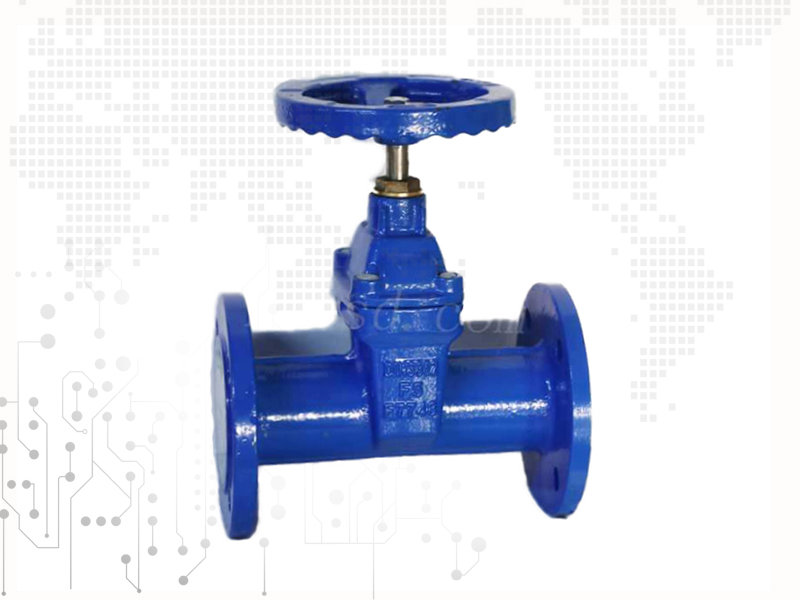 DIN 3352 F5 Resilient Seated Flanged Gate Valves
Features: Gland: Ductile iron
Wedge: Ductile iron+EPDM
Lifting nut: Brass
Adjustable stem: SS420
Clamp ring: Brass
Ring: Silicone

We're here to help:
Easy ways to get the answers you need.
Product parameter
Adoptive standards
Features
Application
Inquiry
Product parameter: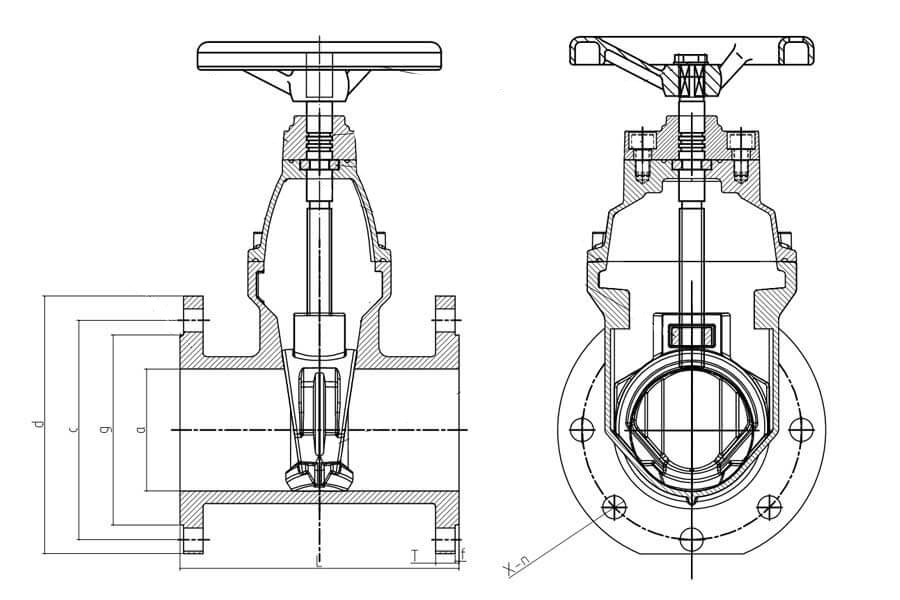 DIN F5 Gate Vavle Product Parameters
Model DN
Face to Face
L-mm
Hand wheel
diameter
D-mm
Flange diameter
d-mm
Hole center distance
c-mm
Hole number and aperture
x-n
The flange thickness
(containing water) T-mm
Boss height f-mm
Crown diameter
g-mm
Nominal Pressure
50
150
138
165
125
4-Φ18
19
3
99
PN16
65
170
173
185
145
4-Φ18
19
3
118
80
180
173
200
160
8-Φ18
19
3
132
100
190
200
220
180
8-Φ18
19
3
156
125
200
230
250
210
8-Φ18
19
3
184
150
210
230
285
240
8-Φ23
19
3
211
200
230
270
340
295
12-Φ23
20
3
266
250
250
350
395
350
12-Φ26
22
3
319
300
270
350
445
400
12-Φ26
24.5
4
370
Adoptive standards:
Specifications
1.Gate valve design DIN 3352 F5
2.Rising/Non-rising stem
3.Rubber encapsulated wedge
4.Clockwise closing direction

Technical Data
DN50-DN300
PN1.0-1.6MPa
Flange Connection:PN10/16
Face to Face dimension:DIN 3202 F5
1.Body: ductile iron
2.Bonnet:ductile iron
3.Gland:ductile iron
4.Wedge:ductile iron+EPDM
5.Lifting nut:brass
6.Adjustable stem:SS420
7.Clamp ring:brass
8.O ring:silicone
9.Handwheel:ductile iron
10.Bolt:carbon steel
11.Ring:EPDM
12.Bolt:SS304
Features:
1.The flow resistance is small. The body's internal media channel is straight through, the medium into a straight flow, flow resistance is small.
2.When opening and closing more effort, compared with the cut-off valve, because either open or closed, gate movement direction perpendicular to the flow direction of the medium.
3.A high degree of opening and closing time is long. The opening and closing of the gate is larger, the reduction is carried out through the screw.
4.Water hammer phenomenon is not easy to produce. The reason is that the closure time is long.
5.The medium can flow in any direction, easy to install. Both sides of the gate valve channel is symmetrical.
6.The valves disc is rubber-packed to get excellent sealing effect by the rubber's resilient deformation.
Non-rising resilient seated gate valves solve the problem in general gate valves such as leakage, rusting etc.
and saves installation space. It is used widely in tap water industry, sewage treatment, shipping construction,
petroleum, chemicals, food, pharmacy, textile, electric power, metallurgy and energy system's pipeline to adjust and shut off fluids.

Application:
1.Petrochemical,;
2.Chemical industry;
3.Metallurgy;
4.Electric power;
5.Water conservancy;
6.Urban construction;
7.Fire fighting;
8.Machinery;
9.Food.
Please fill in your procurement needs and contact information