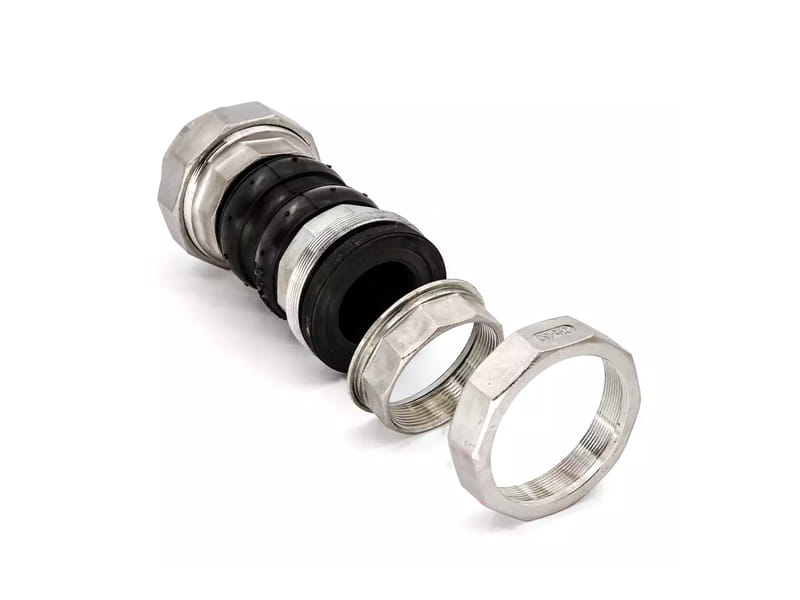 JGD-B Threaded Rubber Joint
Features: Product Name: Threaded rubber expansion joint
Applicable Temperature: -15℃-115℃
Material: EPDM,NR,NBR,PTFE,etc
Flange Standard: DIN, ANSI, JIS,etc.
Specification: DN15-DN80
Work Pressure: PN6-PN40
Applicable Media: Water, Oil, Weak Acid and Alkali, etc
We're here to help:
Easy ways to get the answers you need.
Parameter
Standards&Features
Case
Application
Inquiry
Parameter:
Avoid high temperature, ozone oil and acid-base environment when using or storing rubber flexible joints. Joint surface painting and winding insulation materials are strictly prohibited. Due to the aging of rubber products, it should be inspected and replaced in time.

DN

Length (mm)

Axial Displacement(mm)

Horizontal Displacement(mm)

mm
inch
Extension
Compression
20
0.75
180
5-6
22
22
25
1
180
5-6
22
22
32
1.25
200
5-6
22
22
40
1.5
210
5-6
22
22
50
2
220
5-6
22
22
65
2.5
245
5-6
22
22
Standards&Features:
Mpa(kgf/cm2) Working pressure

1.0(10)

Angular deflection

(a1+a2)45°

Explosion pressure Mpa(kgf/cm2)

3.0(30)
Kpa(mm/Hg)Vacuum
53.3(400)
Applicable Temperature

-15℃-115℃(-30℃-250℃ under special conditions)

Applicable media
Air,compressed air,water,sea water,hot water,oil,acid,alkali,and so on
| | |
| --- | --- |
| Product Name | Threaded rubber expansion joint |
| Material | EPDM,NR,NBR,PTFE,etc |
| Flange/thread Material | Carbon steel,stainless steel,ductile iron,masteel |
| Flange Standard | DIN, ANSI, JIS,etc. |
| Specification | DN15-DN80 |
| Work Pressure | PN6-PN40 |
| Applicable Media | Water, Oil, Weak Acid and Alkali, etc. |
Case:
Classification of rubber joints
1. According to the use of performance is divided into general, special, heat-resistant three categories.
2. According to the structural form is divided into a single sphere, double sphere, three spheres, elbow sphere, wind pressure coil body. Each form can be divided into concentric diameter, concentric diameter, eccentric diameter three categories.
3. Divided into: concentric diameter, concentric diameter, eccentric diameter.
4.According to the product and the pipeline connection form may divide into the flange connection, the thread connection and the
clamp connection, the thread pipe flange connection and so on.



Product characteristics
This product is widely used in chemical industry, construction, water supply, drainage, petroleum, light and heavy industry, refrigeration, sanitation, water heating, fire fighting, electric power and other basic projects because of its excellent comprehensive properties. According to different materials can be made acid-resistant, alkali-resistant, corrosion-resistant, oil-resistant, heat-resistant, radiation-resistant, wear-resistant, aging-resistant and other varieties, suitable for a variety of media and environment.



| | | |
| --- | --- | --- |
| | | |
| Screw thread connection, also known as screw connection, it is through the internal and external screw pipe and pipe, pipe and valve connected. Commonly used pipe connection: Screw connection, welding and flange connection. | According to different media used by the rubber material is different, there are natural rubber, styrene-butadiene rubber, butyl rubber, nitrile rubber, epdm, chloroprene rubber, silicone rubber, fluorine rubber and so on. | This product can reduce vibration and noise, and can be caused by temperature changes in the expansion and contraction of the compensation role, widely used in a variety of pipeline systems. |
Points to note:
It can absorb the lateral, axial and angular displacement caused by the vibration of the pipeline after installation; it is not limited by the different center of the pipeline and the non-parallel of Farlane



Application:
1.Lifting and transportation of raw water and sewage, water supply;
2.Circulating cooling water of thermal power plant;
3.Metallurgical industry;
4.Condensed water;
5.Pipeline transportation of chemicals in chemical industry;
6.Petrochemical industry cooling;
7.Dilution and it industry to long distance pipeline between the flexible connection.
Please fill in your procurement needs and contact information