WESDOM Group. Headquartered in ZhengZhou, which is the geographical center of China, Central Plains hinterland,China's major railways, aviation, highways, electricity, post and telecommunications hub cities, International Air Logistics Center!

WESDOM Group specializes in pipeline fluid systems: R&D, production and sales of valves, pipe fittings, water meters, flow meters, etc. The products cover cast iron, cast steel, stainless steel, copper, plastics and other materials, which are widely used in hydropower stations, heat, buildings, Water supply and drainage, petroleum, chemical industry, electric power, medical and other fields.

OUR VISION
Our vision is to be a leader in all over the world in the supply of valves and fittings to water projects and water companies by offering the best products and the best services.


OUR MISSION
Our mission as a company is to making sure we are diligently serving all our clients with the best quality of products accompanied with the best service and technical knowledge of all our products. Making our customers our top priority by giving them value for their money.
In recent years, WESDOM Group has actively embraced the era of Internet of Everything, committed to LOT terminal control and artificial intelligence design, big data mining and development, and promoted smart hardware to move towards big data center and wisdom with excellent market foresight and technological innovation. The smart cities, smart heating, smart water and other fields are in progress. In the early stage, the Internet of Things smart valves and smart water meters were developed to promote and apply smart control systems such as municipal heating and municipal water supply.




In terms of quality control, we have strict control procedures. From the raw materials entering the factory to the final product leaving the factory, after 24 quality inspection passes, each pass must ensure that the product quality is 100% qualified before it can flow into the next process, thus ensuring that the qualified rate of the finished products. WESDOM products can well meet the Chinese standard like GB, JB, HB; American standard like API, ASME, AWWA; British and EU standards like BS, EN, ISO; German standard DIN; Japanese standard JIS; Russian standard GOST and other standards.
Company Profile
Establishment: MARCH.23.1994
Head office: NO. 2504,25TH Floor,Buliding 2,Nongye East Road Number 45 ,Jinshui District, Zhengzhou City, Henan Province, China
Capital:US$806,500.00
Bank: Bank of China,Zhengzhou Branch
Main product: Ball Valve/Butterfly Valve/Gate Valve/Globe Valve/Check Valve/Foot Valve.
Material: GG25/GGG50/WCB/SS304/SS316/A105
Connection:Flange,Screwed,Butt-Welded and Socket-Welded
Size: 1/4 Inch To 24 Inch
Rating: ANSI; JIS; DIN; BS


The Tanzania branch was established in 2015. In the past 6 years, we have participated in a number of water conservancy, copper mine and infrastructure projects with our customers. WESDOM has been widely praised for its excellent product quality and first-class delivery capabilities.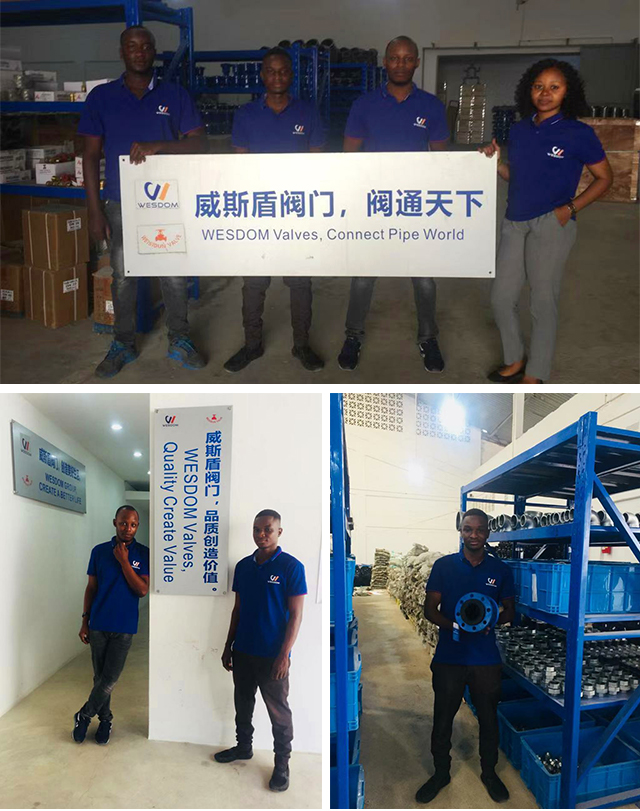 The Zambian company was founded in 2018. The company has withstood the impact of COVID-19 together with customers, implemented stable supply of products, and effectively guaranteed the normal construction of customer projects.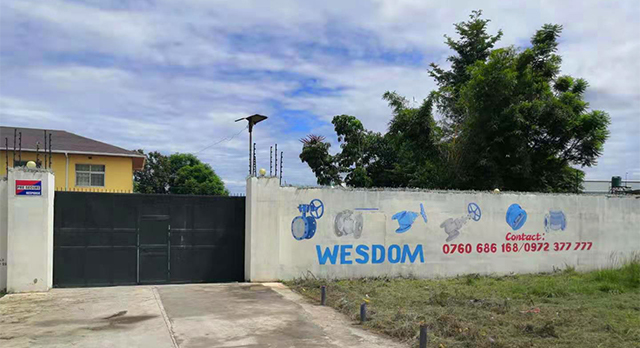 The Kenya branch was established in 2021. Under the leadership of General Manager Cao Bingwang, the company has continuously made breakthroughs in railway, power station and oil and gas terminal projects.