Pneumatic gate valve Control valve
Features: Size: DN40-600
Pressure Rating: PN1.66.4,0.3-0.5MPa
Material: alloy steel,Stainless steel
Design Standard: API6D,ASME B16.34
Inspection Standard: API598
Application medium:  gas, liquid
Application Temperature: -196-500℃
We're here to help:
Easy ways to get the answers you need.
Parameter
Standards&Features
Case
Application
Inquiry
Parameter:
Pneumatic gate valve, with the help of a valve driven by compressed air, when the gate valve is used, the sealing surface can only be used for sealing, that is, the pressure of the plate is sealed to the side of the sealing surface, and the sealing surface of the other sealing surface, this gate valve is forced to seal When the valve is closed, use external force to force the gate to press the seat to ensure the sealing of the valve sealing surface.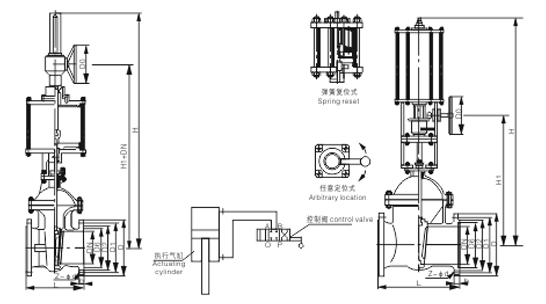 Standards&Features:
Design and manufacture standard according to :API600 and API 6D
Inspection and test standard according to:API 6D and API598
RF flange end according to : ANSI B 16.5 and Mss-SP-44
But weld end according to : ASME B 16.25
Face to Face according to: API 6D and ANSI B 16.10


Feature & Advantage
1.The purpose is a right-angle rotation structure. It is used in conjunction with the valve positioner to realize proportional adjustment; the V-shaped spool is most suitable for various adjustment occasions. The adjustment performance is zero sensitive, the volume is small, and it can be installed vertically. Suitable for controlling gas, steam, liquid and other media.
2.Features: It is a right-angle rotary structure, consisting of a V-shaped valve body, a pneumatic actuator, a positioner and other accessories; it has an inherent flow characteristic of approximately equal percentage; it adopts a double bearing structure, with low starting torque and extremely high performance. Good sensitivity and induction speed; super shearing ability.
3.The pneumatic piston actuator uses compressed air as the power source, and drives the crank arm to rotate 90 degrees through the movement of the piston to automatically open and close the valve. Its components are: adjusting bolt, actuator box, crank arm, cylinder block, cylinder shaft, piston, connecting rod, universal shaft.
4.The working principle of the pneumatic control valve: the pneumatic control valve is composed of an actuator and a regulating mechanism. The actuator is the thrust component of the regulating valve, which generates corresponding thrust according to the size of the control signal pressure, and pushes the regulating mechanism to act. The valve body is the regulating part of the pneumatic regulating valve, which is in direct contact with the regulating medium to regulate the flow of the fluid.


Case:
Project Name: Tanzania Water Project
Client name: Water project of a factory in Tanzania
Purchased Products: Gate Valves, Butterfly Valves, Check Valves, Pipe Fittings, etc.
Customer needs: water project treatment
client feedback:
The customer sent us the installation pictures of the WESDOM product in the working condition project, and the feedback quality is very good, and will maintain a long-term cooperative relationship with WESDOM;
Project pictures:

Application:
Textile

Paper & Board

Cement
Please fill in your procurement needs and contact information