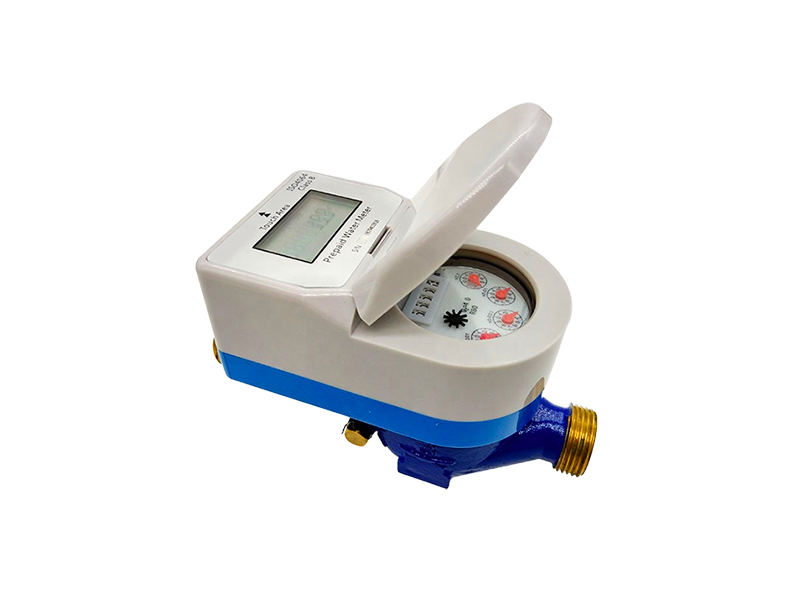 Prepaid Token Water Meter
Features: Type: Prepaid Water Meter
Standard: ISO 4064 ClassB
Color: white&blue
Size: DN15mm~DN25mm (1 /2''~1-1/2'')
Certificate: ISO4064
Feature: Digital Water Meter Display

We're here to help:
Easy ways to get the answers you need.
Parameter
Standards&Features
Case
Application
Inquiry
Parameter:
Types
DN15
DN20
DN25
Accuracy
Class2
leakage
1.6Mpa water pressure, no leakage within 15 minutes.
lenght
165mm
195mm
225mm
Overload flow
3.125m³/h
5m³/h
7.875m³/h
parmanent flow
2.5m³/h
4m³/h
6.3m³/h
Transitional flow
0.05m³/h
0.08m³/h
0.126m³/h
Minimum flow
0.0313m³/h
0.05m³/h
0.0788m³/h
Starting flow
≤0.012m³/h
≤0.016m³/h
0.020m³/h
Lowest reading
0.0001m³
Largest reading
99999.9999m³
Small flow errors
≤±5%
Flow errors
≤±2%
Work temperature :
0℃—30℃(water meter)
Work pressure :
0.0——1.0Mpa
Standards&Features:
IC card smart prepaid digital water meter product features:
--Using non-contact IC card technology, wireless data transmission is used to solve the problems of waterproof, moisture-proof and anti-attack.
--micro-power technology: Usually power consumption is less than 0.5μA, so that the battery life greatly increased, to ensure the use of more than 6 years.
--electric suspension ball valve technology: anti-locking, non-fouling characteristics, can achieve low pressure loss, wear, power consumption, anti-rust, anti-blocking effect.
--automatic valve discharge, anti-blocking, anti-rust technology: valve timing automatically switch action, the effective use of pipeline pressure caused by the instantaneous impulse of water, to achieve automatic valve discharge, to prevent valve rust die, fouling and other phenomena.
--full seal design: all lines are all sealed with epoxy resin, good sealing.
--anti-external, magnetic attack technology: When the external power, magnetic attack, the meter will automatically close the valve.
Work power supply:
The operating voltage of alternating current or direct current shall be in the range of -15% to 10% of the standard voltage and the frequency of AC frequency should be ± 2% of the standard frequency.
Card water meter should add the following requirements:
--work pressure: 3.0V~3.6V
--Static operating current: ≤5μA
--LCD display range: 00000.0~99999.9
--Climate and mechanical environment grade B
--Electromagnetic environment class E1 level
Working conditions:
| | |
| --- | --- |
| Flow range: | Q1~Q3 (Q4 short time work not change error) |
| Ambient temperature: | 5℃~55℃ |
| Ambient moisture: | (0~93)%RH |
| Water temperature: | cold water meter 1℃~40℃, hot water meter 0.1℃~90℃ |
| Water pressure: | 0.03MPa~1MPa (short time work 1.6MPa not leak, no damage) |
| Pressure loss: | ≤0.063MPa |
Main technical parameters:
Model-DN

Flow range

Q3

Q4

Q2

Q1

Min. reading

Max. reading

Q3/Q1

Q2/Q1

m3/h

m3

LXSK-15

80

1.6

2.5

3.125

0.05

0.03125

0.0001

999999

LXSK-20

80

1.6

4.0

5.0

0.08

0.05

0.0001

999999

LXSK-25

80

1.6

6.3

7.875

0.126

0.07875

0.0001

999999

LXSK-32

80

1.6

10

12.5

0.2

0.125

0.0001

999999

LXSK-50

80

1.6

25

31.25

0.5

0.3125

0.0001

999999
Application:
--Measuring the total volume of cold portable water passing through the pipeline.

Please fill in your procurement needs and contact information