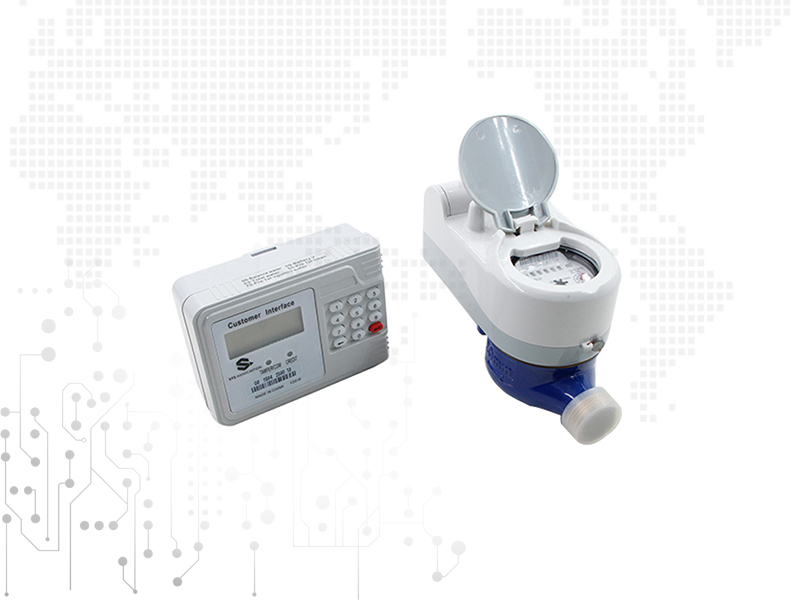 Prepaid Token Water Meter
Features: Type: Prepaid Water Meter
Standard: ISO 4064 ClassB
Color: white&blue
Size: DN15mm~DN25mm (1 /2''~1-1/2'')
Certificate: ISO4064
Feature: Digital Water Meter Display

We're here to help:
Easy ways to get the answers you need.
Product parameter
Adoptive standards
Features
Application
Inquiry
Product parameter:
Types
DN15
DN20
DN25
Accuracy
Class2
leakage
1.6Mpa water pressure, no leakage within 15 minutes.
lenght
165mm
195mm
225mm
Overload flow
3.125m³/h
5m³/h
7.875m³/h
parmanent flow
2.5m³/h
4m³/h
6.3m³/h
Transitional flow
0.05m³/h
0.08m³/h
0.126m³/h
Minimum flow
0.0313m³/h
0.05m³/h
0.0788m³/h
Starting flow
≤0.012m³/h
≤0.016m³/h
0.020m³/h
Lowest reading
0.0001m³
Largest reading
99999.9999m³
Small flow errors
≤±5%
Flow errors
≤±2%
Work temperature :
0℃—30℃(water meter)
Work pressure :
0.0——1.0Mpa
Adoptive standards:
Functions:
Close the valve in case of no balance
Close the valve in case of Magnetic field inteference
Close the calce in case of low battery
Alarm in case of low water balance
Purchase water using CIU
Read data from water using system by RF
Long distance communication


Features:
--Multi-jet, dry-dial, easy for maintenance;

--Magnetic drive reliable characteristic, long working life;

--Vacuum sealed register ensures the dial keep free from fog and frost, Keep the reading clear in a long term service;

--Technical data conform to international standard ISO4064 Class B

Application:
--Measuring the total volume of cold portable water passing through the pipeline.

Please fill in your procurement needs and contact information