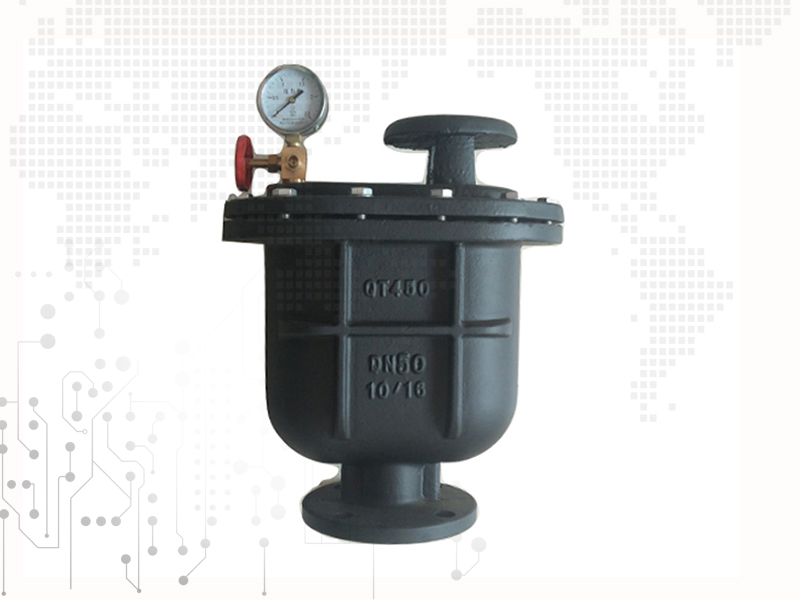 Composite Exhaust Air Valve
Features: DN: DN50—DN200
Nominal pressure (MPa): PN1.0—1.6Mpa
Medium: Fresh water, sewage, sea water, weak acid,weak base etc
Temperature: -20℃—120℃
Body material: cast iron, ductile iron
Flange connection: DIN PN10.PN16, ANSI150,BS4504

We're here to help:
Easy ways to get the answers you need.
Parameter
Standards&Features
Case
Application
Inquiry
Parameter:
Technical Parameters
1.Working pressure:1.0MPa
2.Medium: water
3.Applicable temperature:constant temperature
4.Body:gray iron HT200
5.Floating ball and piston: stainless steel
6.Packing material:ding clear rubber
Standards&Features:
Operation Principle
There are two holes in the compound vent valve, one big, one small. The diameter nearly equals DN. The first time water is passed in the pipeline, a large amount of air will be released through the big hole. Immediately the air is completely removed, the big hole stops working. When the pipeline is at work, air cells will be generated. And air cells will grow bigger while move to the upper part of the pipeline, which will have a negative influence on the flow of water. At this moment, these air cells can be removed through the small hole. Therefore no air can exist in the pipeline. When the electricity is cut off, the pump does not work , or there is no water flow in the pipeline, negative pressure will be generated and there will be a great need of air in the pipeline. In order to inhale a lot of air, a floating ball will fall and open the small hole which will drive the opening of the big hole.
Warning:The working pressure of vent valve cannot be over 0.02MPa, if not, water will be leaked. And this valve should be equipped with another valve for its maintenance.
Case:
Product Introduction
This product is used at the highest point of pipelines, the place where air is shutoff, or the outlets of pumps in order to eliminate air and dredge pipelines. If the vent valve is not set, the air in the pipeline will be possibly shutoff at any time, and the water content will not meet the design requirement. If the electricity is suddenly cut off when the pipeline is at work, the negative pressure in the pipeline will cause vibration or cracking. In this case, the vent valve can quickly inhale air into the pipeline and prevent the vibration and cracking of it.
Application:
Water conveyance pipeline during the initial water filling, regular maintenance of pipeline after water filling the air inside the pipeline to discharge, avoid pressure fluctuations.
Please fill in your procurement needs and contact information