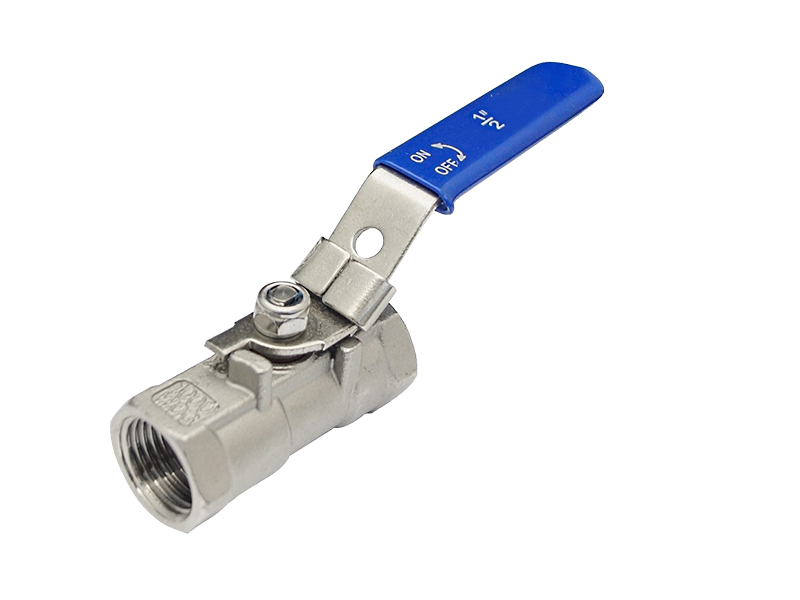 1 PC ball valve
Features: Size Range: 1/4" – 4" (DN8 - DN100)
Body Design: 1 PC Body Design
Operations: Reduced Bore, Quarter Turn
Working Pressure: 1000 PSI
Connections: BSPP / NPT
Applicable Medium: General Oil, Gas & Water Applications
Temperature Range: -29°C to 150°C​
We're here to help:
Easy ways to get the answers you need.
Parameter
Standards&Features
Case
Application
Inquiry
Parameter:
What is 1 PC ball valve?
1 PC ball valve is a reduced bore type ball valve that used to start or stop the flow of a pipeline system. It is designed with a quarter turn handle to turn the ball in 90 degree, either in open position or close position. The locking mechanism on handle is to lock the handle when the valve is in open position or close position.
Reduced bore type ball valve is a valve where the bore size is smaller than the internal diameter of pipework which it installed on. It is available in stainless steel SS316 material and come with PTFE seat. It is made in one body part which lead to cost effective and reduce leakage paths.

Working principle of one-piece ball valve:
The mechanical pressure of the valve stem
The structure of the one-piece ball valve consists of:
Integral, ball, teflon ring, lock nut, usually reduced diameter, the actual circulation aperture than the diameter DN less than a specification, the flow is relatively small.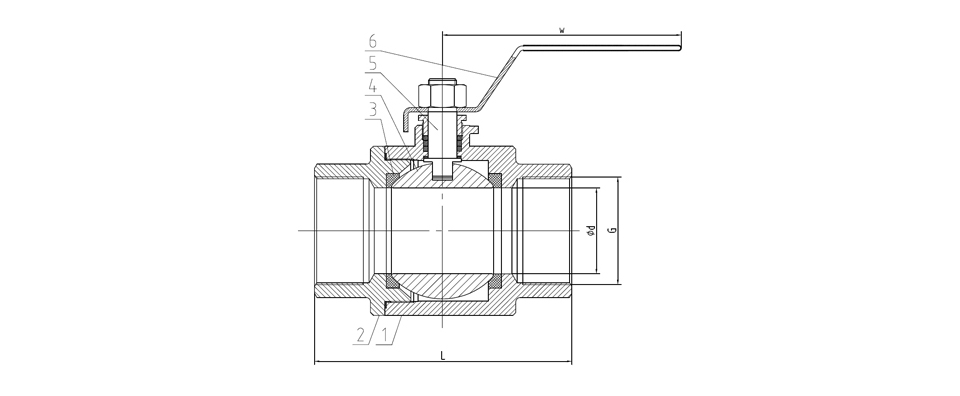 | | | | | | | | | | | | |
| --- | --- | --- | --- | --- | --- | --- | --- | --- | --- | --- | --- |
| SIZE | 1/4" | 3/8" | 1/2" | 3/4" | 1" | 1 1/4" | 1 1/2" | 2" | 2 1/2" | 3" | 4" |
| DN | 8 | 10 | 15 | 20 | 25 | 32 | 40 | 50 | 65 | 80 | 100 |
| D | 12 | 12 | 15 | 20 | 25 | 32 | 38 | 49 | 64 | 78 | 98 |
| L | 52 | 52 | 53 | 64 | 72 | 82 | 91 | 108 | 144 | 170 | 206 |
| H | 50 | 50 | 55 | 62 | 70 | 75 | 90 | 98 | 120 | 140 | 150 |
| T | 94 | 94 | 108 | 115 | 140 | 140 | 165 | 172 | 220 | 220 | 310 |
1.WESDOM patent products, patent certification
The product side flanges comply with national, German, Russian, American, British and Japanese standards and other domestic and international standards for multiple pressures, easy connection and wide adaptability, which can reduce the type of purchase and stock.
2.The product has an independent identity to ensure traceability
Each wesdom product has its own unique identification number, to ensure product traceability.
3.Provide material inspection report
All wesdom products can provide the material inspection report of the main parts.
4.One-stop service
One-stop service, we not only supply high quality products, also supply solutions and after-sales service.
5.WESDOM has a lot of project experience
We have a lot of project experience in countries such as Pakistan and the Philippines, WESDOM has always been noticed all over the world, and trust comes from quality.
6. WESDOM has a strict quality control system
WESDOM has a strict quality control system and before delivery, we test 100% of each product to ensure its quality, promising you a high quality product.


Quality Control Process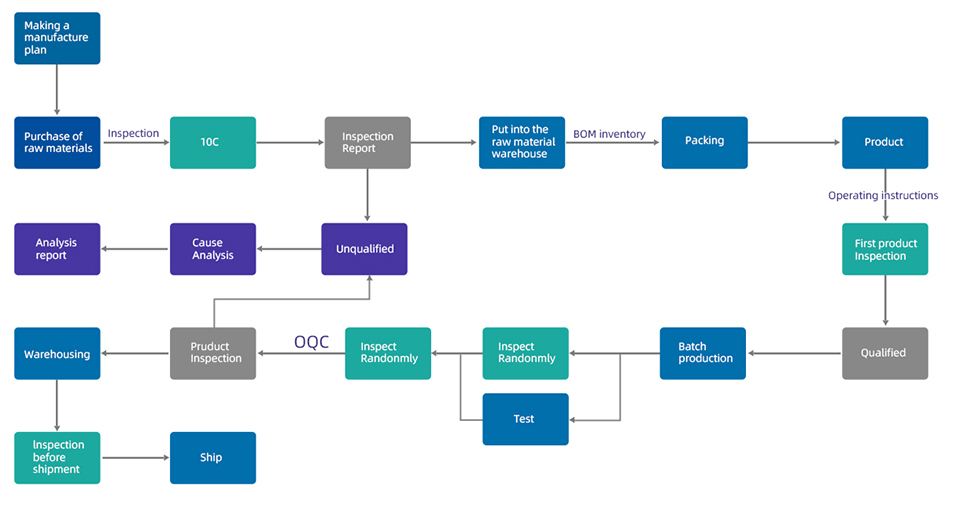 Standards&Features:
Body Test:
1.5 times the working pressure with water. This test is performed after valve assembly and with disc in half position open, it is called as a body hydro test.
Seat Test:
1.1 times the working pressure with water.
Function / Operation Test:
At the time of final inspection, each valve and its actuator (Flow-Control Lever / Gear / Pneumatic Actuator), under goes a complete operating test (Open/Close). This test carried out without pressure and at ambient temperature. It ensures the correct operation of the valve / actuator assembly with accessories such as solenoid valve, limit switches, air filter regulator etc.
Special Test:
On request, any other test can be carried out according to special instruction by client.


The ball valve in the pipeline is mainly used to do cut-off, distribution, and change the flow direction of the medium. It has the following advantages:
1. Simple structure, small volume, light weight, easy maintenance.
2. Small fluid resistance, tight and reliable, good sealing performance.
3. Easy to operate, open and close quickly, and easily control from a distance.
4. The sealing surface of the ball and seat is isolated from the medium, which is not easy to cause erosion of the sealing surface of the valve.
5. Wide range of application, the passage diameter from small to a few millimeters, large to several meters, from high vacuum to high pressure can be applied.
Case:
Main products:
Ball valve check valve, gate valve, pipe fittings, etc.
Project description:
The client in this case is from Pakistan and is a large-scale local valve distributor. They have their own store locally and often import some valves from abroad to store or supply to local customers.
This client has cooperated with WESDOM many times. Almost every once in a while, they will contact the foreign trade salesman of WESDOM. They bought a batch of valves from WESDOM and stocked them in their store.
Through many cooperations with WESDOM, the two sides have established a very close cooperative relationship. Of course, they contacted WESDOM without hesitation, and purchased check valves, gate valves, pipe fittings, etc. from WESDOM.
Client feedback:
We have worked with WESDOM many times and have been very satisfied each time. We are very willing to maintain a long-term cooperative relationship with WESDOM.
Project pictures:
Application:
The 1 PC ball valve is commonly used in a range of applications, including:
1. Plumbing and water systems:
These valves are frequently used in residential and commercial plumbing systems to control the flow of water. They are suitable for hot and cold water applications and are commonly found in faucets, toilets, showers, and irrigation systems.
2. Industrial processes:
1 PC ball valve are widely used in industrial applications for controlling the flow of various fluids, such as chemicals, gases, and oils. They are commonly found in pipelines, tanks, and equipment in industries like manufacturing, chemical processing, and oil and gas.
3. HVAC systems:
These valves are employed in heating, ventilation, and air conditioning (HVAC) systems to regulate the flow of air, water, or refrigerant. They are commonly used in systems such as air handlers, chillers, and cooling towers.
4. Fuel and gas distribution:
1 PC ball valves are used in fuel distribution systems, such as gas pipelines and fuel storage tanks, to control the flow of fuel or gas. They are commonly used in residential, commercial, and industrial applications, including natural gas lines and propane systems.
5. Pharmaceuticals and food processing:
These valves are utilized in industries that require strict hygiene standards, such as pharmaceutical and food processing. They are suitable for controlling the flow of liquids and gases in processes like ingredient mixing, filtration, and sterilization.
6. Marine applications:
1 PC ball valves are commonly used in marine applications, including boats, ships, and offshore platforms, for controlling the flow of seawater, fuel, and other fluids.
Please fill in your procurement needs and contact information