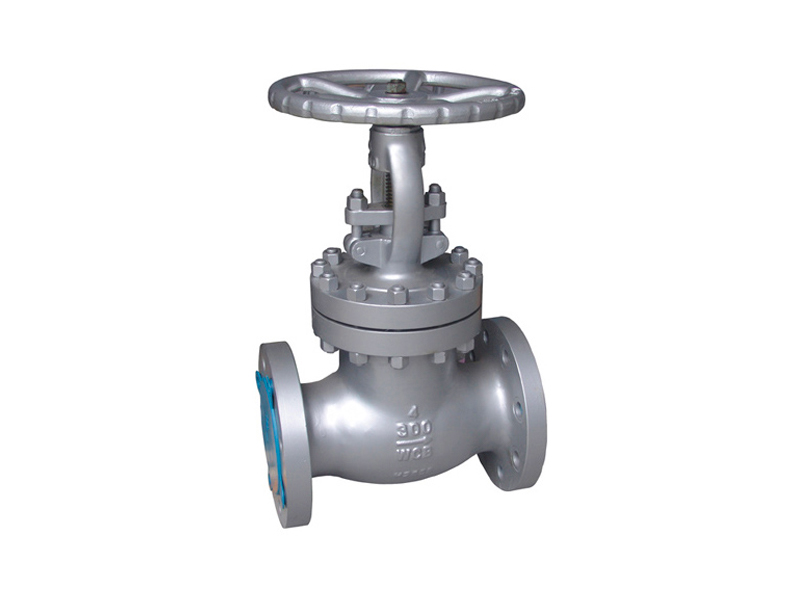 Cast Steel Globe Valve
Features: Size Range: 1/2''-12''/DN15-300
Pressure: 1-2.5Mpa
Body Materials: WCB
Seat Materials: Cr stainless steel
Disc Materials: 304/316stainless steel
Stem Materials: 304/316stainless steel

We're here to help:
Easy ways to get the answers you need.
Parameter
Standards&Features
Case
Application
Inquiry
Parameter: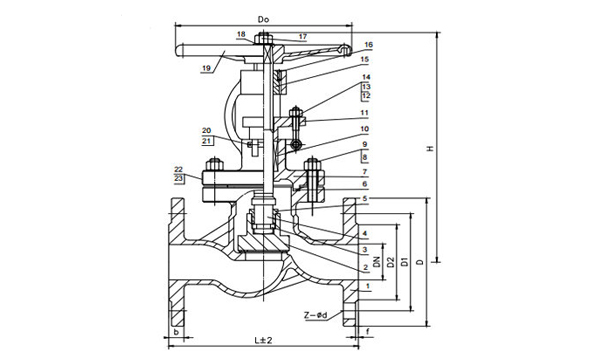 | | | | | |
| --- | --- | --- | --- | --- |
| No. | Part Name | Carbon Steel | Alloy Steel | Stainless Steel |
| 1 | Body | ASTM A216 WCB | ASTM A217-WC9 | ASTM A351 CF8M |
| 2 | Disc | ASTM A182 F6a | ASTM A182-F22/STL.OVERLAY | ASTM A182 F316 |
| 3 | Disc Sleeve | ASTM A182 F6a | ASTM A182-F22/STL.OVERLAY | ASTM A182 F316 |
| 4 | Stem | ASTM A182 F6a | ASTM A182 F6a | ASTM A182 F316 |
| 5 | Bellow Seal | ASTM A276 304 | ASTM A276 304 | ASTM A276 316 |
| 6 | Bonnet Gasket | Soft Iron | Soft Steel | ASTM A276 316 |
| 7 | Bonnet | ASTM A216 WCB | ASTM A217-WC9 | ASTM A351 CF8M |
| 8 | Bolt | ASTM A193 B7 | ASTM A193 B16 | ASTM A193 B8 |
| 9 | Nut | ASTM A194 2H | ASTM A194 4 | ASTM A194 8 |
| 10 | Packing | SS316+Graphile | SS316+Graphile | SS316+Graphile |
Design Standards and Design Features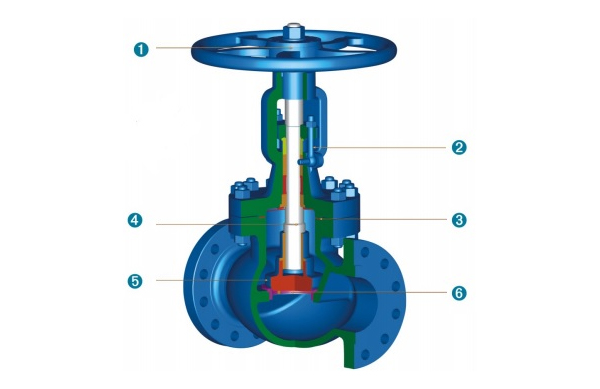 The illustration of design features of cast steel globe valve


Design/Inspection standards: API 6D, API 600, ASME B16.34, BS EN13709, BS 1873, ASME B16.10, ASME B16.5.
(1) Handwheel operated with OS&Y and rising stem.

(2) Gland eyebolts are applied to facilitate packing maintenance and easy dismantling.

(3) Body/Bonnet joint design: male and female matching joint for 150LB~600LB; metallic ring gasket seal for 900LB and above.

(4) T-shaped anti blow-out stem design.

(5) Plug-shaped disc and seating face design allows particular flow characteristic.

(6) Seating surface shall be hardened by stellite 6 overlay.
Standards&Features:
Adoptive Standards
Body Test: 1.5 times the working pressure with water. This test is performed after valve assembly and with disc in half position open, it is called as a body hydro test.
Seat Test: 1.1 times the working pressure with water.
Function / Operation Test: At the time of final inspection, each valve and its actuator (Flow-Control Lever / Gear / Pneumatic Actuator), under goes a complete operating test (Open/Close). This test carried out without pressure and at ambient temperature. It ensures the correct operation of the valve / actuator assembly with accessories such as solenoid valve, limit switches, air filter regulator etc.
Special Test: On request, any other test can be carried out according to special instruction by client.
Product Advantage
1.The sealing surface has the advantages of good sealing performance, easy operation, no damage to the sealing surface, long service life and no water hammer phenomenon.
2.The product has reasonable structure, reliable sealing, excellent performance and beautiful appearance.
3.Stem after the modulation and surface nit riding treatment, has a good corrosion resistance and abrasion resistance.
4.The product can be used with standard pipe flanges and flange sealing surface in the form, to meet the needs of various projects and user requirements.
Standard Test
Valve design and manufacture according to GB/T12237-1989
Valve test according to GB/T13927-1992


PN(Mpa)

Connection Flange

Pressure test

Temperature

Shell

Seal

≤425

1.6

RF

2.4

1.76

2.5

RF

3.75

2.75

4

RF

6

4.4

Main Material


Part Name

Body, Bonnet, Yoke

Disc

Stem

Seat

Sealing Ring, Gasket

Packing

Material

WCB
ZG1Cr18Ni9Ti
ZG1Cr18Ni12Mo2Ti
ZGCr5Mo

2Cr13
304
306
Cr5Mo

2Cr13
304
316
25Cr2MoV

25
304
316


304 coated

Flexible Graphite
Case:
Project Name: Pakistan Petroleum Project
Customer name: a customer of Pakistan Petroleum
Main products: API valves and fittings
Customer demand: oil project use
Project description:
All valves and fittings were through SGS Inspection.
client feedback:
WESDOM is a very trustworthy team, not only professional, but also caring and enthusiastic in service. If there is a demand in the future, we will choose WESDOM without hesitation.
Project pictures:

Application:
chemical, pharmaceutical, chemical fertilizer, the power industry and condition of the pipeline, cut off or connected to medium, suitable for water, oil, steam, acid medium, and the operation mode: manual, gear, electric, pneumatic, etc.
Please fill in your procurement needs and contact information