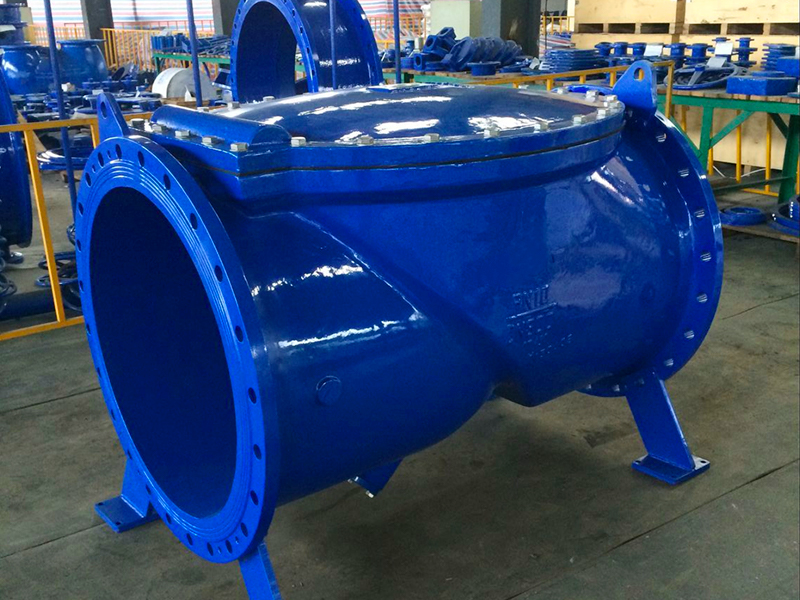 DN800 Rubber Disc Check Valve
Features: Size: DN50-DN900
Pressure Rating: PN16/PN25
Material: Ductile Iron
Design Standard: DIN3352 F4,  LIGHT TYPE
Inspection Standard: EN12266
Application medium: Drinking water, sewage, seawater, irrigation or other neutral liquid
Application Temperature: -40°C~150°C
We're here to help:
Easy ways to get the answers you need.
Parameter
Standards&Features
Case
Application
Inquiry
Parameter:
Brief introduction of rubber disc check valve:
Rubber disc check valve is installed in the pump outlet, or other prevent the backflow medium pipeline, reduce the water hammer protect the safety of the pipeline and water pump. It is mainly composed of body, cover and disc of three main parts. The reinforced nylon disc rubber coated, the disc can be used more than 1 million times, scouring resistance, prolong service life. With a small head loss, not easy to pile up sundry, simple maintenance and so on characteristics. Open pressure is small, close short journeys, closing speed, reduce the water hammer.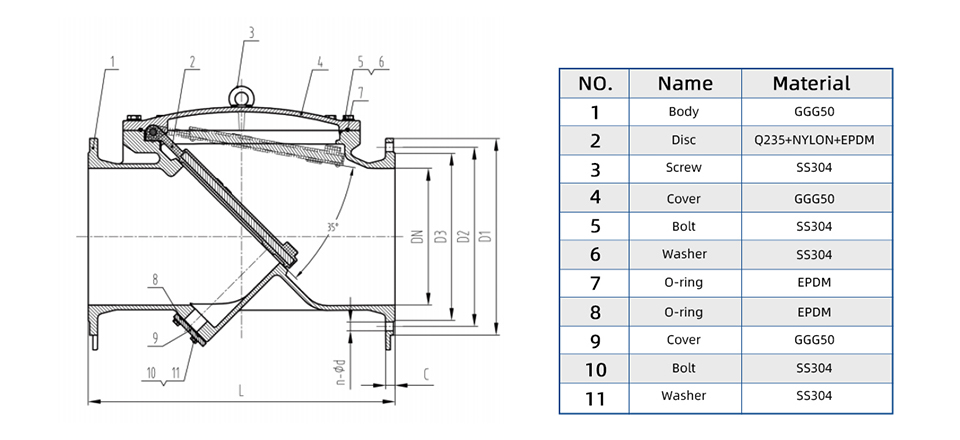 | | | | | | | | |
| --- | --- | --- | --- | --- | --- | --- | --- |
| DN | D1 | D2 | D3 | L | C | n-ød | WT |
| 350 | 520 | 460 | 429 | 787 | 26.5 | 16-ø23 | 234 |
| 400 | 580 | 515 | 480 | 813 | 28 | 16-ø28 | 300 |
| 450 | 640 | 565 | 530 | 914 | 30 | 20-ø28 | 414 |
| 500 | 715 | 620 | 582 | 1016 | 31.5 | 20-ø28 | 512 |
| 600 | 840 | 725 | 682 | 1295 | 36 | 20-ø31 | 804 |
| 700 | 910 | 840 | 794 | 1448 | 39.5 | 24-ø31 | 1198 |
| 800 | 1025 | 950 | 901 | 1500 | 43 | 24-ø34 | 1600 |
| 900 | 1125 | 1050 | 1001 | 1956 | 46.5 | 28-ø34 | 2500 |

WESDOM Advantages
1.WESDOM patent products, patent certification
The product side flanges comply with national, German, Russian, American, British and Japanese standards and other domestic and international standards for multiple pressures, easy connection and wide adaptability, which can reduce the type of purchase and stock.
2.The product has an independent identity to ensure traceability
Each wesdom product has its own unique identification number, to ensure product traceability.
3.Provide material inspection report
All wesdom products can provide the material inspection report of the main parts.
4.One-stop service
One-stop service, we not only supply high quality products, also supply solutions and after-sales service.
5.WESDOM has a lot of project experience
We have a lot of project experience in countries such as Pakistan and the Philippines, WESDOM has always been noticed all over the world, and trust comes from quality.
6. WESDOM has a strict quality control system
WESDOM has a strict quality control system and before delivery, we test 100% of each product to ensure its quality, promising you a high quality product.


Quality Control Process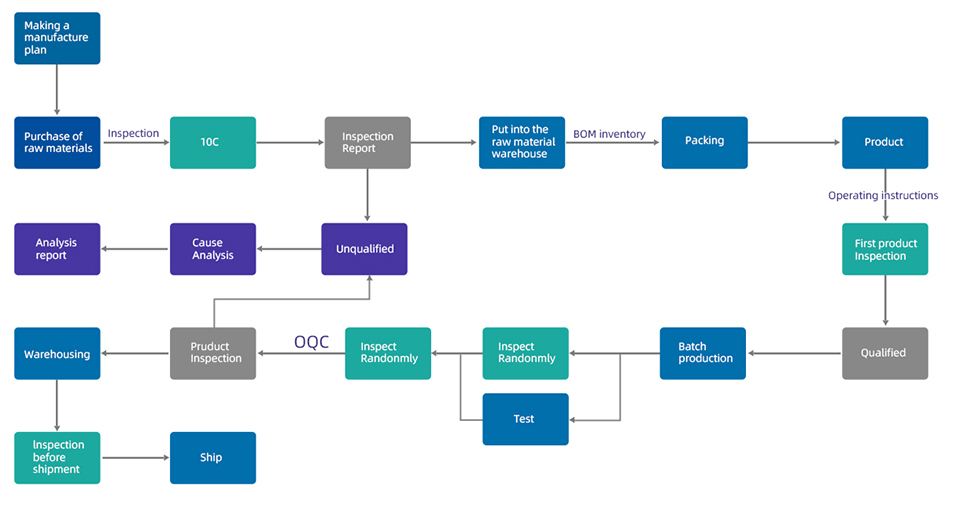 Standards&Features:
THE MAIN PERFORMANCE PARAMETERS
PN(MPa)
1.0
1.6
Test pressure (MPa)
Shell strength
1.5
2.4
Sealing property
1.1
1.76
Operating temperature
-20-80C
Applicable medium
Water, oil, etc
MAIN PARTS MATERIAL
Main components name
The material
Body
Nodular cast iron
Cover
Nodular cast iron
Disc
Carbon steel + reinforced nylon + NBR
Gasket
Nitrile rubber

Advantages of rubber disc check valve:
①Low losses and easy maintenance
The valve adopts the whole design flow area, with a small head loss, not easy to pile up sundry, simple maintenance and so on;
②Good elastic sealing effect
Rubber disc with steel plate and reinforced nylon fabric as parent,NBR is adopted to improve the overall plastic bags, plastic bags, geometry size accurate, elastic sealing effect is good. The elasticity of the rubber disc for not the top of the steel skeleton, the elastic limit open device on the back of the rubber disc. Reinforced nylon rubber coating technology on the disc, scouring resistance, switch life can reach more than 1 million times;
③Low opening resistance, easier to achieve quick opening and closing
Rubber disc in place with the valve axis into 45°Angle, in order to achieve reduce open resistance, quick quick opening.
④Equipped with cushioning device
To the large diameter (DN400 above) can choose buffer cylinder device, of which 85%。90% schedule for quick closing,10% × 15% stroke is slowly closing. Slow closing time can be adjusted, the adjusting range is 1 ~ 15 seconds, in order to reduce the damage to the pump water hammer.
⑤Interchangeability
All equipment either as a whole or its relevant parts have absolute compatibility.
Application:
Rubber disc check valves can be widely used in chemical, petroleum, metallurgical, pharmaceutical, food, sewage treatment, and other industries, mainly to prevent the backflow of media and gas backflow in the pipeline, and to ensure the safe and stable operation of the pipeline system.
Specific application areas include:
1. Gas transmission system:
The use of a rubber disc check valve to stop the backflow of natural gas or other gas to avoid gas explosions or fires.
2. Sewage treatment systems:
Rubber disc check valves can be installed in sewage treatment lines to prevent the backflow of sewage and ensure the normal operation of sewage treatment stations.
3. Chemical industry:
In the chemical production process, the rubber disc check valve can prevent the backflow of media, avoid the cross-contamination of the mixture and ensure the quality of the production products.
4. Water supply and drainage systems:
Used in water treatment and water supply pipelines to prevent the backflow of sewage and wastewater and to ensure the stable operation of water supply and drainage systems in cities.
5. Building and fire-fighting systems:
Used in the drainage pipes of buildings and fire-fighting systems to prevent the spread of sewage and fire and to protect personal property.
Please fill in your procurement needs and contact information