Silent Check Valve
Features: Dimensions: 2"(DN50)-12"(DN300)
Working Pressure: PN10/PN16/PN25
Temperature range: 0℃~+80℃
Body: Ductile iron,Stainless steel
Medium: Water, Gas

We're here to help:
Easy ways to get the answers you need.
Parameter
Standards&Features
Case
Application
Inquiry
Parameter:
The silent check valve refers to a valve that automatically opens and closes the valve flap by means of the flow of the medium itself. The valve for preventing the backflow of the medium, also called the check valve and the check valve, belongs to an automatic valve, and its main function is to prevent the medium from flowing backward. Prevent the pump and drive motor from reversing and the discharge of the container media. The check valve can also be used to supply a line in which the pressure may rise to an auxiliary system that exceeds the system pressure.
A silent check valve, also known as a silent or quiet check valve, is designed to minimize the noise typically associated with operating standard check valves. Check valves, by nature, produce a characteristic "thump" or "slamming" sound when they close, caused by the sudden stopping of fluid flow and the subsequent reversal of flow direction. This noise can be disruptive, especially in systems where frequent cycling occurs.
To mitigate the noise, silent check valves are engineered with features that reduce or eliminate the slamming effect. Some common design elements found in silent check valves include:
Dampening Mechanisms:
Silent check valves often incorporate dampening mechanisms, such as springs or hydraulic devices, to slow down the closure of the valve. This helps to minimize the sudden stoppage of flow and the resulting noise.
Internal Cushioning:
These valves may have internal cushions or soft seating materials to absorb the impact and reduce noise when the valve closes.
Low-Closing Velocity:
Silent check valves are designed to close gradually, reducing the velocity of the fluid and minimizing the slamming effect.
Flow Profile Optimization:
The internal geometry of silent check valves is often optimized to promote smooth and streamlined flow, which can reduce noise.
| | | | | | | | |
| --- | --- | --- | --- | --- | --- | --- | --- |
| Size | DN | L | D | K | C | n-ΦDPN10 | n-ΦDPN16 |
| 2'' | 50 | 150 | 165 | 125 | 19 | 4 一Φ19 | 4 一Φ19 |
| 2 1/2'' | 65 | 150 | 185 | 145 | 19 | 4 一Φ19 | 4 一Φ19 |
| 3'' | 80 | 180 | 200 | 160 | 19 | 8 一Φ19 | 8 一Φ19 |
| 4'' | 100 | 190 | 220 | 180 | 19 | 8 一Φ19 | 8 一Φ19 |
| 5'' | 125 | 210 | 250 | 210 | 19 | 8 一Φ19 | 8 一Φ19 |
| 6'' | 150 | 210 | 285 | 240 | 19 | 8 一Φ23 | 8 一Φ23 |
| 8'' | 200 | 230 | 340 | 295 | 20 | 8 一Φ23 | 12 一Φ23 |
| 10'' | 250 | 250 | 405 | 355 | 22 | 12 一Φ23 | 12 一Φ28 |
| 12'' | 300 | 270 | 460 | 410 | 24.5 | 12 一Φ23 | 12 一Φ28 |
WESDOM Advantages
1.WESDOM patent products, patent certification
The product side flanges comply with national, German, Russian, American, British and Japanese standards and other domestic and international standards for multiple pressures, easy connection and wide adaptability, which can reduce the type of purchase and stock.
2.The product has an independent identity to ensure traceability
Each wesdom product has its own unique identification number, to ensure product traceability.
3.Provide material inspection report
All wesdom products can provide the material inspection report of the main parts.
4.One-stop service
One-stop service, we not only supply high quality products, also supply solutions and after-sales service.
5.WESDOM has a lot of project experience
We have a lot of project experience in countries such as Pakistan and the Philippines, WESDOM has always been noticed all over the world, and trust comes from quality.
6. WESDOM has a strict quality control system
WESDOM has a strict quality control system and before delivery, we test 100% of each product to ensure its quality, promising you a high quality product.


Quality Control Process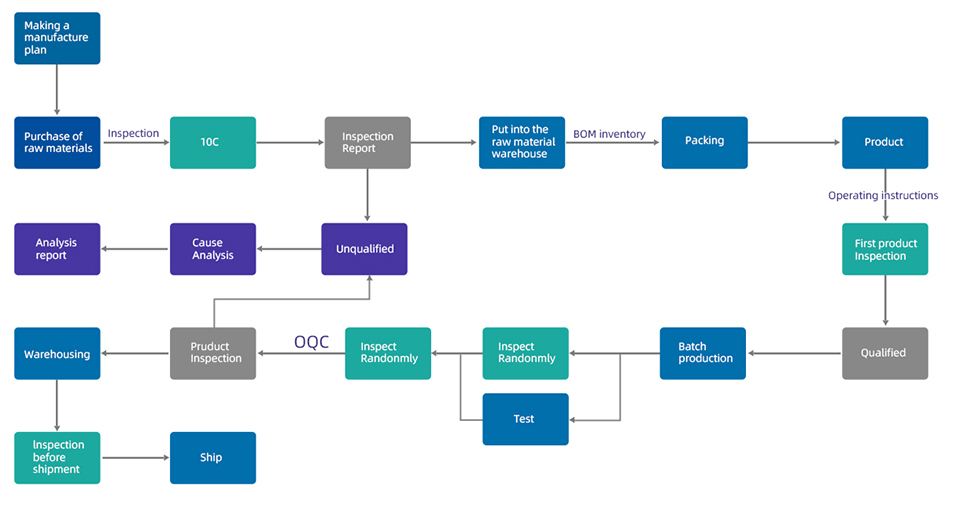 Standards&Features:
Silent check valves offer several advantages compared to standard check valves.
Here are some of the key benefits:
Noise Reduction:
As the name suggests, the primary advantage of silent check valves is their ability to reduce noise during operation significantly. By incorporating dampening mechanisms, cushioning materials, and optimizing flow profiles, these valves minimize the slamming or thumping sounds typically associated with closing check valves. This is particularly beneficial in residential or commercial settings where noise control is essential for comfort and a peaceful environment.
Prevents Water Hammer:
A water hammer is a phenomenon that occurs when there is a sudden change in flow direction or velocity within a piping system. It can cause pressure surges, vibrations and potentially damage pipes and equipment. With their controlled and gradual closure, silent check valves help reduce the water hammer effect by minimizing the rapid reversal of flow and the associated pressure fluctuations.
Improved Flow Efficiency:
Silent check valves are designed to provide a streamlined flow profile, minimizing turbulence and pressure losses. This leads to improved flow efficiency, reduced energy consumption, and lower operating costs. Maintaining a smoother flow path, these valves help optimize system performance and reduce the pressure drop across the valve by maintaining a smoother flow path.
Reliability and Durability:
Silent check valves are typically engineered with high-quality materials and precision manufacturing, ensuring durability and long-term reliability. They are designed to withstand high pressures and provide tight sealing to prevent leakage. This enhances the overall system integrity and minimizes maintenance requirements.
Versatile Applications:
Silent check valves can be used in various applications and industries where backflow prevention is necessary. Whether it's residential plumbing, HVAC systems, water distribution networks, wastewater treatment plants, or industrial processes, these valves offer a versatile solution for preventing reverse flow while maintaining a quiet and efficient operation.
Case:
Bangladesh Mine Project
Main products:
Foot Valves, Check Valves and Motorized gate valves.
Project description:
WESDOM customizes the most suitable solutions for customers according to the actual needs of customers' working conditions;
Client feedback:
WESDOM products are of high quality, Now all products have well installed on site.
Application:
Here are some specific applications where silent check valves are commonly used:

Residential Plumbing:
Silent check valves are often employed in residential plumbing systems to prevent backflow and minimize noise. They can be installed in water supply lines, sewage systems, and sump pump discharge lines to ensure proper flow direction and reduce the disruptive slamming noise that can occur with standard check valves.

HVAC Systems:
HVAC (Heating, Ventilation, and Air Conditioning) systems commonly utilize silent check valves to control the flow of fluids, such as water or refrigerant. These valves help prevent backflow and mitigate noise in applications such as chilled water systems, condenser water systems, and heat exchangers.

Water Treatment Plants:
In water treatment plants, silent check valves are used to maintain flow control, prevent backflow, and minimize noise. They are typically installed in pipelines carrying treated water, chemicals, or wastewater to ensure unidirectional flow and prevent any contamination or damage to the treatment process.

Industrial Processes:
Various industrial processes require the use of silent check valves. These valves can be found in pipelines that transport fluids or gases, including oil refineries, chemical processing plants, power generation facilities, and manufacturing plants. They are crucial in preventing backflow, maintaining system integrity, and reducing noise levels.

Commercial Buildings:
Silent check valves are commonly employed in commercial buildings for applications such as fire suppression systems, sprinkler systems, and water distribution networks. They ensure proper flow direction and backflow prevention while minimizing noise disturbances within the building.
Please fill in your procurement needs and contact information