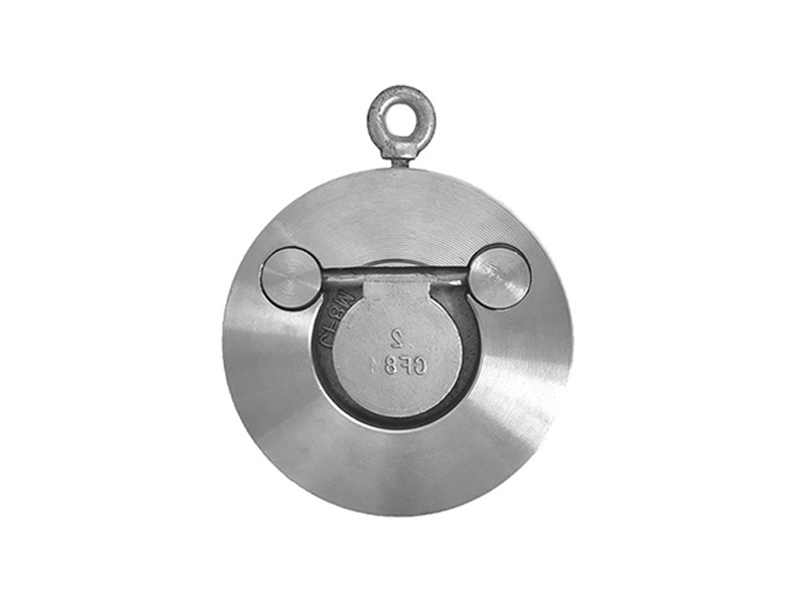 Single Chip Check Valve H74W
Features: Size: 2"~20"
Pressure Rating: PN10~PN40
Material: SS304,  SS316
Design Standard:  Appropriate standard
Inspection Standard:  Appropriate standard
Application medium: Water, Oil, Chemical
Application Temperature: -20~400 °C
We're here to help:
Easy ways to get the answers you need.
Parameter
Standards&Features
Case
Application
Inquiry
Parameter: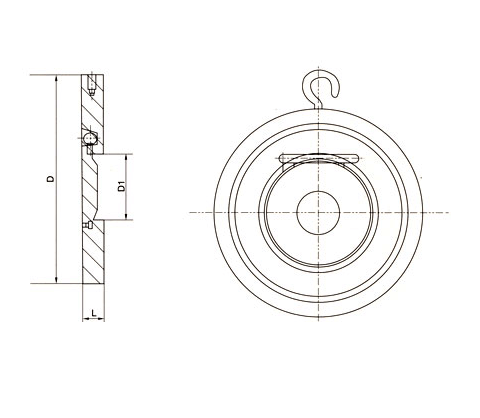 DN(mm)
L
PN10
PN16
PN25
PN40
Ⅰ
Ⅱ
D
D
D
D
50
14.5
22
109
109
109
109
65
14.5
22
129
129
129
129
80
14.5
22
144
144
144
144
100
14.5
24
164
164
170
170
125
16
26
194
194
198
198
150
19
29
220
220
228
228
200
29
43
275
275
288
293
250
29
43
330
333
343
355
300
38
50
380
388
403
420
350
41
52
440
448
460
480
400
51
62
493
498
52
549
Standards&Features:
Product overview
The wafer check valve is composed of valve body, valve disc, valve stem, spring and other parts. It adopts wafer connection. Due to the short closing stroke of the valve disc and spring loading, the water hammer phenomenon can be significantly reduced. This valve is mainly suitable for urban, industrial and high-rise building water supply and drainage pipe networks. Because its structure length is shorter than general check valves, it is most suitable for places with installation restrictions.

Main Part of Material
No.
Accessory name
Material
1
Body
WCB=13Cr
SCS13
2
Disc
WCB=13Cr
SCS13
3
Torsion Spring
0Cr18Ni9
0Cr18Ni9
1.Short length of the structure, the length of its structure is only the traditional flange back valve 1 / 4 to 1 / 8.

2.Small volume, light weight, the weight is only the traditional flange back valve 1 / 4 to 1 / 20 .

3.Quick closing valve, water hammer pressure.

4.Small, can be used in horizontal or vertical pipe, convenient installation.

5, Flow smooth, fluid resistance small.

6. Flexible action, good sealing performance.

7.Short stroke of the valve, valve off small impact force.

8. Integral structure, simple and compact, modeling beautiful 9 using long life, high reliability.
Case:
Project name: A customer in Pakistan purchases check valves, gate valves, pipe fittings, etc.
Customer name: a distributor in Pakistan
Main products: ball valve, check valve, gate valve, pipe fittings, etc.
Customer demand: high-quality valves, fittings, storage or supply to customers
project description:
The client in this case is from Pakistan and is a large-scale local valve distributor. They have their own store locally and often import some valves from abroad to store or supply to local customers.
This client has cooperated with WESDOM many times. Almost every once in a while, they will contact the foreign trade salesman of WESDOM. They bought a batch of valves from WESDOM and stocked them in their store.
Through many cooperations with WESDOM, the two sides have established a very close cooperative relationship. Of course, they contacted WESDOM without hesitation, and purchased check valves, gate valves, pipe fittings, etc. from WESDOM.
client feedback:
We have worked with WESDOM many times and have been very satisfied each time. We are very willing to maintain a long-term cooperative relationship with WESDOM.
Project pictures:

Application:
1.Water supply system;

2.Petroleum;

3.Chemical industry;

4.Metallurgy and other industrial sectors are most suitable for the installation space restrictions.
Please fill in your procurement needs and contact information