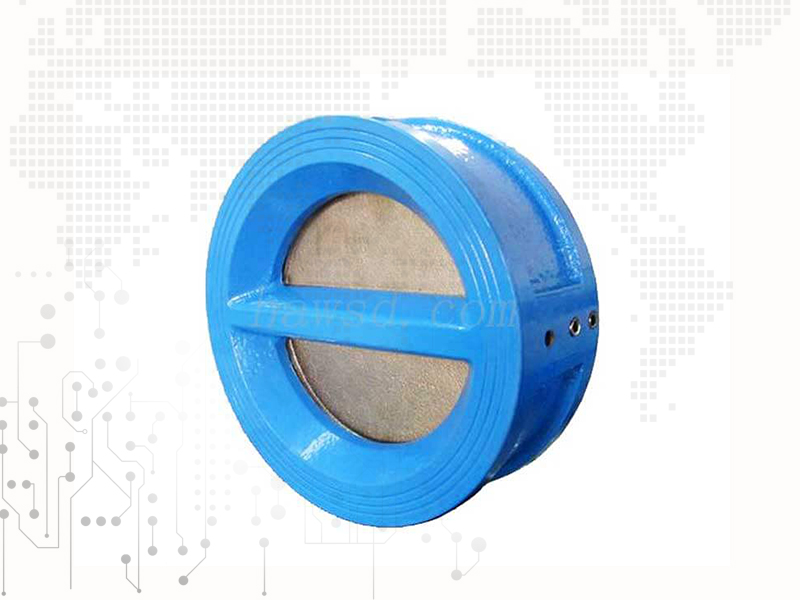 Wafer Check Valve
Features: DN: 2~24"(DN50~DN400)
Nominal pressure (MPa): PN10, PN16,
Body Materials: Cast Iron, Ductile Iron , WCB , Stainless Steel, Bronze
Seat Materials: NBR, EPDM
Disc Materials: Ductile Iron, WCB, CF8,CF8M, Al-bronze C958
Stem Materials: SS416, SS304, SS316

We're here to help:
Easy ways to get the answers you need.
Product parameter
Adoptive standards
Features
Application
Inquiry
Product parameter: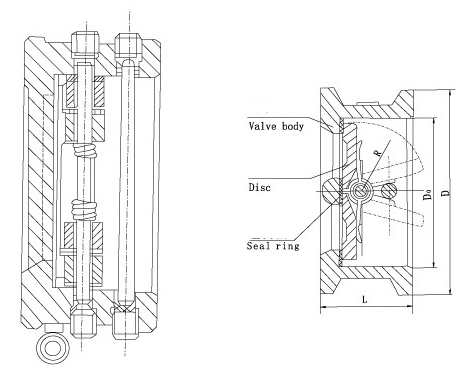 Nominal
DN(mm)
Measurement(mm)
L
R
D
Do
40
43
23.5
92
55
50
43
28.5
107
65.5
65
46
34.5
127
81
80
64
44
142
95
100
64
52.8
162
121
125
70
66.5
192
148.3
150
76
74.5
217
171
200
89
87.5
272
225
250
114
127
328
265
300
114
147
378
310
350
127
173
438
360
400
140
198
489
410
Adoptive standards:
Wafer check valve
Size Range: 2~24"(DN50~DN400)
Pressure: PN10, PN16, Class125
Body Materials: Cast Iron, Ductile Iron , WCB , Stainless Steel, Bronze
Seat Materials: NBR, EPDM
Disc Materials: Ductile Iron, WCB, CF8,CF8M, Al-bronze C958
Stem Materials: SS416, SS304, SS316
Wafer Check Valve is used to pipeline of industry, environmental protection, water treatment, draining of high-rise building. It can prevent reverse flow of medium. It adopts wafer type connection way, with two semi-circular disc, and reset by spring force, the sealing surface can be rubber or wear-resistant materials, widely used and reliable sealing.
1.The Valve is an energy-saving product, is manufactured based on the foreign advanced technology and in accordance with relative international standards.
2.This product is featured by excellent retaining performance , high safety and reliability and low resistance .
3.It is suitable for systems in the industries of petroleum, chemical, food processing, medicine, textile, paper-making, water supply and drainage, metallurgy, energy and light industry etc.
Valve Design: API 609
Pressure Test: API 598
Flange end: ANSI B16.1 class125, BS4504 PN10/PN16, DIN2501 PN10/PN16
Features:
Standard Test :
Body Test: 1.5 times the working pressure with water. This test is performed after valve assembly and with disc in half position open, it is called as a body hydro test.
Seat Test: 1.1 times the working pressure with water.
Function / Operation Test: At the time of final inspection, each valve and its actuator (Flow-Control Lever / Gear / Pneumatic Actuator), under goes a complete operating test (Open/Close). This test carried out without pressure and at ambient temperature. It ensures the correct operation of the valve / actuator assembly with accessories such as solenoid valve, limit switches, air filter regulator etc.Special Test: On request, any other test can be carried out according to special instruction by client.
Application:
1.Water Treatment Plant ;
2.Drilling Rigs;
3.Paper Industry;
4.Gas Plant;
5.Sugar Industry;
6.Cooling Water Circulation;
7.Breweries;
8.Heating & Air Conditioning;
9.Chemical Industry;
10.Pneumatic Conveyors;
11.Waste Effluent Treatment Plant;
12.Compressed Air.
Please fill in your procurement needs and contact information